No matter what part of the country you live in, having an outdoor space to entertain and relax is critical. Climate, sunlight exposure, wildlife, and wind considerations can all impact whether or not your space is consistently usable.
Climate
Do you have harsh or mild winters? If your winters are brief, you can use your space for all four seasons with just a bit of planning. Consider planting deciduous trees around your outdoor space to give you shade during the hot months and the warmth of the sun on chilly days. A dark roof or ceiling on your outdoor space can bring in even more warmth from the sun.
You don't need to make huge changes in your current plantings to enjoy a deck off your home. If you have a favorite tree, check out how Eagle Building Solutions built a wonderful deck around an old and beloved tree.
Sunlight Exposure
As previously stated, carefully planned shade plantings can make your outdoor living spaces more comfortable year round. Other options include adding screens to an existing porch or building a screened in porch on your existing home.
The addition of a screened-in porch can have benefits inside your home as well. If the western side of your home suffers from heat buildup, consider adding a lean-to style porch or roof over a new deck to provide sun protection for the windows on that side of your home.
Wildlife
Screened in porches offer homeowners in many parts of the country a cozy spot to enjoy fresh air without pesky bugs. While many existing porches can leave gaps for bugs, birds and bats to make their homes, a well-built screened in porch addition will give you plenty of fresh air without offering a haven to destructive animals.
Fans of outdoor dining will really appreciate this feature. Imagine relaxing on your screened-in porch with friends for a picnic that includes no ants or flies!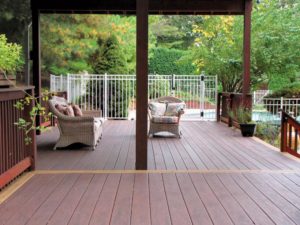 Wind Considerations
If your region of the country is breezy, adding a porch, patio or screened in seating area may take special planning. While patio umbrellas can protect diners from too much sun, your diners won't appreciate having to chase napkins and empty plates across the table.
A well-built porch can offer you the chance to build in a windbreak with shutters or sliding panels to block the wind on gusty days.
Safety Is Job One
Your deck can include a lot of wonderful features, including built-in seating, concrete or stone decking and custom screening. However, the most important addition to any elevated project is safety railings. You can be assured that, no matter your style preference, your loved ones will be protected on deck edges and staircases with sturdy railings built to current code.
You needn't sacrifice style to add a quality railing to your deck. The qualified designers and installers with Eagle Building Solutions can help you select a railing material that will look great and protect your guests and loved ones.
Final Thoughts
Grilling great food, relaxing in the sun and enjoying the breeze are all great ways to appreciate the warm months of the year, no matter what climate you live in. Consider adding a custom deck or screened in porch to brighten and expand your living space.