Metal is steadily rising in popularity as a material for sturdy roofing in Lancaster, PA and other cities around the U.S. These days, more and more people are turning to metal roofing systems for their homes. Truth be told, it's not that hard to see why. Speaking to CBS Pittsburgh correspondent Susan Koeppen, homeowners Douglas and Nancy Wood and roofing pro Ryan Westfall discuss the advantages of using such.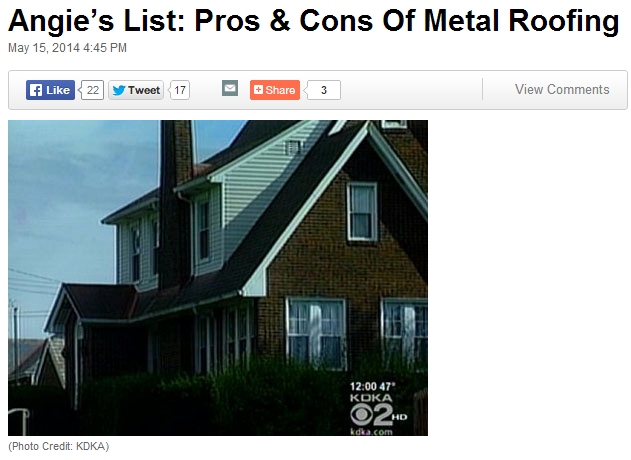 "We chose the metal roof for its look. Very Florida-like. For its longevity and maintenance-free," Douglas said.

"It's the most durable roof you can put on your house. It's also the most energy-efficient you can put on your house, and lastly, it's the least maintenance that is required of any roofing in the industry. The only con to a metal roof is the cost. If you can afford a metal roof, it's the way to go. It will be the last roof you ever put on," Ryan Westfall, a roofing company vice president, said.
Aside from the advantages mentioned above, there is one commonly disputed quality among ordinary folks that make a metal roof stand out – insulation. While popular belief might state that a metal roof can be inefficient in a hot climate, it really isn't the case.
A lot of people may remember the age-old science experiment of burning a piece of paper or leaf by absorbing and focusing sunlight through a magnifying glass. In relation to this, modern energy-efficient metal roofing works in the exact reverse way – instead of amplifying heat, it reflects the latter away from the roof's surface and back into the atmosphere. In places like Lancaster that have a humid, continental climate, which is characterized by very warm or hot summers, metal roofs – thanks to their excellent insulating property – can be the most practical choice.
Metal roofs are coated with a special layer of paint to help reflect heat away. A study by the Florida Solar Energy Center revealed that white or light-colored metal surfaces reflect heat best under testing at a rate of 67 percent. Therefore, a metal roof can significantly keep a home cooler than most non-reflective roofing materials, leading to a gradual decrease in heating and cooling bills. Considering that the warm season lasts almost five months in Lancaster, it makes sense to save as much money on utility bills as one could.
While they come with a costly price tag, metal roofs are good home investments that are guaranteed to last 30 to 50 years. Reputable Lancaster roofing companies like Eagle Building Solutions are abound to serve anyone in need of a roofing replacement.
(Source: Angie's List; Pros & Cons of Metal Roofing, CBS Pittsburgh, May 15, 2014)