All over the country, homeowners are growing concerned over the continuous increase in electricity prices that are taking a big chunk out of people's budget for living costs. Many are now on a lookout for ways to either reduce their power consumption or decrease their reliance on commercial electricity. Fortunately, people can use technologies like the latest kind of solar panel that Tereza Pultarova of Engineering and Technology Magazine recently reported about: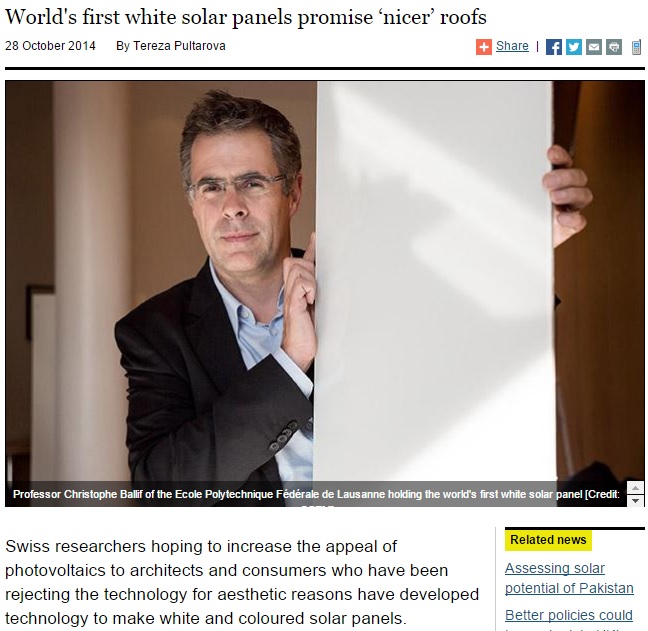 Until today, it has been deemed largely impossible to manufacture solar panels in anything other than very dark colours while maintaining the required efficiency. Most commercially available photovoltaic panels have thus been black or dark blue.

However, Swiss company CSEM (Swiss Center for Electronics and Microtechnology) has allegedly cracked the problem by covering a conventional photovoltaic solar panel with a coloured nanofilm reflecting all visible light but transmitting the infrared part of the spectrum inside the photovoltaic panel.

Despite the reflective properties of white surfaces, the nanofilter ensures enough infrared light reaches the core of the solar panel to maintain the efficiency.
The use of solar panels is one of the most popular and preferred technologies among homeowners. Solar panels enable households to tap to an alternative energy source without implementing major changes in the way they consume electricity. However, installing a solar panel is not as simple as it seems. Homeowners have to determine whether their roofing system can handle the weight of the solar panels that are to be installed in their houses.
Roofing of Lancaster, PA homes must therefore be inspected before homeowners purchase solar panels to determine its structural integrity. It must be assessed whether there is a need to have the roofs fixed first or changed before solar panels can be actually installed. This must be done to ensure that investments on functional home additions are not wasted and can offer returns in the long run.
Fortunately, Lancaster roofing specialists, such as those employed by Eagle Building Solutions LLC, have extensive experience in assessing the current state of residential roofing and fixing them. They are also knowledgeable with the latest industry techniques in strengthening roof systems. They use sturdy materials to ensure roofs would last longer. And they've also worked with a couple of solar panel installers to know how to prepare roof systems for the home addition.
Getting energy-saving technologies like solar panels would be beneficial to homeowners in the long run. However, people must take the needed time to make sure that their roofs can accommodate such panels or else risk having their investment easily break and be wasted.
(Source: World's first white solar panels promise 'nicer' roofs, Tereza Pultarova, October 28, 2014)