Pennsylvania's claim to historical fame is the Liberty Bell, which was originally cast in London way back in 1752. However, the area is also home to over 2,000 historical markers, proof of the Keystone State's rich past.
While there are declarations that aim to protect these centuries-old structures, said decrees don't always guarantee the preservation and restoration of these landmarks. As such, Lisa Horst, president of the Lancaster County Preservation Trust's board of directors, recently called on residents to exercise stewardship and save these buildings: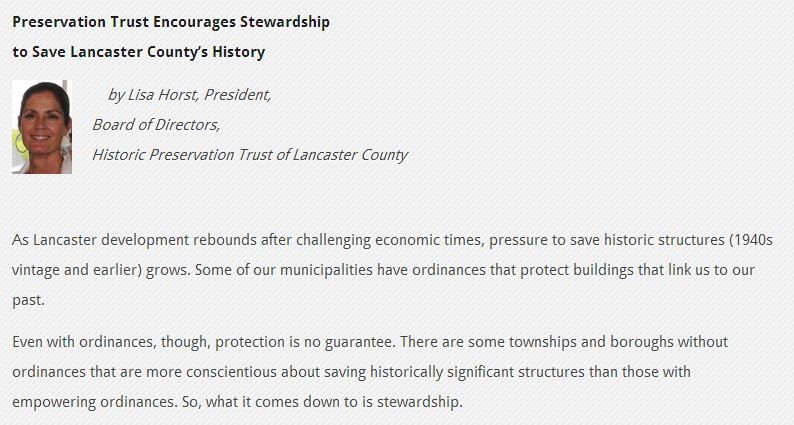 As Lancaster development rebounds after challenging economic times, pressure to save historic structures (1940s vintage and earlier) grows. Some of our municipalities have ordinances that protect buildings that link us to our past.

Even with ordinances, though, protection is no guarantee. There are some townships and boroughs without ordinances that are more conscientious about saving historically significant structures than those with empowering ordinances. So, what it comes down to is stewardship…

Lancaster has one of the largest inventories of historic properties for an area its size in the country. Unless historic homes, barns, bridges, mills and other historically significant structures are maintained, Lancaster may lose its historic appeal – an appeal that attracts businesses, home buyers and tourists.
Horst also cited successful examples of stewardship, like the restoration of the Reinholds Farmhouse East Cocalico Township. It's important to note that undertaking such renovations comes with an attractive perk: tax credits. As the Pennsylvania Department of Community and Development stated, entities that rehabilitate these oft-forgotten properties can enjoy a tax write-off of up to $500,000 per fiscal year.
Despite these incentives, restoring a vintage home is by no means an easy task, especially when it comes to the roof, the property's primary defense against the elements. Aside from installing a high-quality roof, a Lancaster roofing company must also work to ensure that historical accuracy will be preserved.
Thankfully, there are companies like Eagle Building Solutions that offer specialized services like the installation of roofing in Lancaster, PA historic homes. Whether the roof was made of cedar wood or slate, roofing professionals can add a new installation that perfectly matches the landmark.
As Horst pointed out, many of Pennsylvania's historic buildings have survived countless wars and natural disasters. Hence, preserving these structures should be a point of pride for Lancaster residents. With the help of trusted firms like Eagle Building Solutions, this mission becomes much easier to accomplish.
(Source: Preservation Trust Encourages Stewardship, Lancaster County Preservation Trust, July 13, 2014)