Are you tired of spending your Sunday afternoons ridding your gutters of dirty, decomposing leaves and other debris? Then you may be interested in the question we are answering today on our blog. Do gutter guards work? Is there really a way to eliminate this time-consuming, seasonal core?
The answer to the question do gutter guards work is actually quite simple. Yes, they do. Gutter guards, gutter covers, or gutter screens are surprisingly effective at keeping gutters and downspouts free and clear of debris. However, proper installation is required to utilize your gutter guards to their full potential. That is where are our team of experts comes in.
Since 1981, Eagle Building Solutions has been training our home improvement contractors on how to properly install and repair gutter guards and covers. By getting the best gutter guards installed on your home the first time, you won't have to worry about if your gutters are working as they should or climbing up on that ladder twice a year. If you are interested in saving time and money with your gutters and downspouts, keep reading to learn more, or contact us today for a free quote!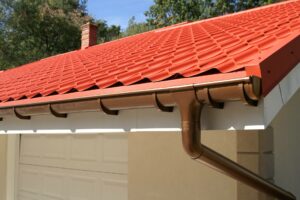 The Best Gutter Guards In Lancaster County
Now that you have decided that you want to learn more about gutter guards, you may be wondering what the best gutter guards are? The good news is that we can help. Because we have so many years of experience installing gutter guards around Lancaster County, we have come up with our favorite types to recommend to our clients.
Here is a rundown of the six basic types of gutter guards found on the market today:
1. Reverse Curve / Helmeted Guards -These are designed to direct water flow down into gutter systems via small slots in the vertical face. Leaves and debris, however, are encouraged to keep falling or blowing down to the ground.
2. Mesh – A mesh gutter guard is simply a mesh sheet that attaches to your roof's shingles and covers the gutter. The small holes sift out debris and let water flow right through. While they work well, mesh gutter covers aren't the most durable and often need replacing every other fall season.
3. Bottle Brush – Bottle brush gutter guards are essentially large pipe cleaners. They feature tons of brush-like bristles that collect debris as it falls. When the bristles are faced upright, water flows into the gutter downspout while debris gathers at the top, making it easy for you to clean.
4. Vinyl Guards – Vinyl guards are designed to fit right into your gutter without the need to attach them to your roofing shingles. Water enters the guards through several recessed slots. The recessed slots tend to fill with debris over time and limit the amount of water entering your gutter system.
5. Foam – Foam gutter guards are similar to swimming pool noodles. They are long tubes constructed of plastic material that slide right inside of your gutter. While it may seem like an attractive option due to its simplicity and ease of use, the water flow isn't as smooth as it is in some other models.
6. Louvre – If you like the idea of seamless gutters, or better yet, no gutter at all, a louvre system may be right for you. They feature thin louvres that effectively divert rain off of roofs, thus removing the need for traditional gutter systems and guards.
At Eagle Building Solutions, we are proud to say that we can install any of the above gutter systems to your residential or commercial property. Reach out to us today to learn more about the gutter and downspout installation we offer!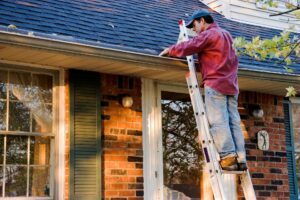 How To Use Gutter Screens Correctly
Whether you have an older gutter system that has seen better days or are not sure how to best use your new seamless gutters, the experts at Eagle Building Solutions have the knowledge to help. It is our mission to keep your home's gutters free of leaves, twigs, and other debris to help eliminate leaky roofs and costly repairs. When you get your gutter screens installed properly, you are helping yourself avoid the following issues:
Water and mold damage
Foundation damage
Flooded basements
Cracked structures
Leaky roofs
Other roof damage
& more!
Though you can DIY your gutter screen installation, having gutter guards installed by professional contractors can help your system to last longer and be more efficient. We offer affordable rates to our Lancaster County clients so you can get the help you need without going over budget. Because our team has experience with many different styles of gutter guards, we can make sure that any system you choose is installed the first time correctly and built to last you years into the future.
Do Gutter Guards Work?
So do gutter guards really work? At Eagle Building Solutions, we have years of satisfied customers who would say they do. All our gutter guard systems come with warranties, so you can have the peace of mind that comes with knowing your new gutters are built to last. Visit our showroom in Lititz, PA, to view our gutter parts in person, or fill out a contact form to get in touch!