With the fallout of the recession seemingly gone for good, the time is ripe for Pennsylvanians to engage in home remodeling projects. According to Kentucky.com, the median selling price of a typical home reached $214,000 last June; the largest ever since 2005. With this in mind, 43 percent of all homeowners in the US now say that they're planning to renovate their homes this year, which is good news for home improvement companies.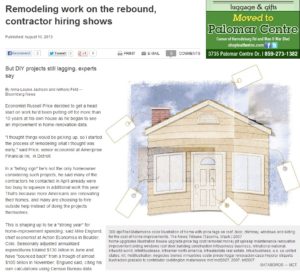 One of these companies is Eagle Building Solutions, which primarily focuses on roofing in Lancaster, PA. Other than working with shingles and roof tiles, many roofing companies now also provide other home improvement services such as basement remodeling, siding installation, room construction, and gutter repair. This practice allows homeowners to hire just one group of construction contractors to handle most of the home renovation jobs they need to have done in one go.
After all, time is of the essence when a homeowner wants to sell off his or her property as soon as possible, especially since the real estate business in the country is currently showing good progress. Indeed, one of the primary reasons why people engage in home remodeling projects is to raise the selling price of their properties. This can be done by hiring professionals who can refurbish existing rooms (especially kitchens and bathrooms) and improve the overall aesthetics of the house.
However, another reason for these projects is simply to improve the overall living standards at home. By adding better home fixtures and facilities, families are more likely to be satisfied with their residence, and less likely to start looking for new homes. Shopping for a new house can be a bit tempting, now that the average fixed rate of 30-year mortgages (the most common mortgage among American households) has dropped by 3.36 percent last December.
Those who still wish to sell their homes must conduct a thorough inspection of their property before they contact their nearest real estate broker. Roof problems, like water leaks and missing shingles, can negatively affect a home's retail value, which is why it is important to have them sorted out. Some Lancaster roofing companies, like Eagle Building Solutions, provide reliable roof repair services aside from installing roofing tiles and shingles.
While current conditions are right for people to refurbish their homes and increase their selling price, there's no telling what will happen in the future. Therefore, those who have home improvement plans are advised to act on them immediately. Luckily, contractors in the country are more than happy to carry out their plans, with the economy on its way to full recovery.