Lancaster, PA roofing contractors, as well as those from other states, will have the chance to be educated on current roofing trends, issues, and techniques at the 2014 International Roofing Expo (IRE). According toRoofing Contractor Magazine, the expo will cover a comprehensive list of educational topics that are aimed at different types of professionals in the roofing industry. The International Roofing Expo will be from February 26 to 28 at the Mandalay Bay Convention Center in Las Vegas, Nevada.
Taking place Wednesday through Friday, 44 in-depth sessions will cover topics designed especially for contractors, owners, CEOs, general managers, building owners, facility managers, foremen, superintendents, architects, engineers, consultants, estimators, salesmen, manufacturers and suppliers.

"Education is a vital component to growing your business and being profitable in today's market," IRE Director Tracy Garcia, CEM, said. "To help attendees better confront roofing challenges today, attendees can choose from 44 knowledge-building sessions covering best practices, tactics and techniques."
Each session will run for 90 minutes, and will run through eight tracks. These are workplace safety, green building, money matters, leadership/management, general business, legal/HR, technical, and sales/service. Specifics that will be tackled include OSHA's updated guidelines, as well as an industry update from the executive director of the National Roofing Contractors Association.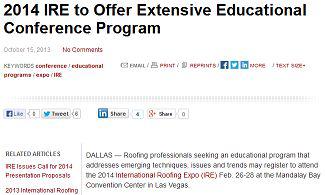 The expo will also treat attendees to new products and processes. "Not only does the International Roofing Expo showcase the industry's latest roofing products, services and equipment, it is also where the industry turns for business solutions, education and networking," said Bill Good, the NRCA's executive vice-president.
With these educational sessions, Lancaster roofing companies like Eagle Building Solutions, LLC, and those in other areas, will be able to integrate into their own suite of services, the trade tips and tricks that they learn from the conference. As a result, they stand to offer better services to their customers.
Property owners who are looking for roof installations, repairs, or replacements can then look forward to improved results and more satisfactory home exterior systems. It is therefore recommended to choose a contractor that is proactively seeking to educate its team on a consistent basis.
(Article Excerpt and Image from 2014 IRE to Offer Extensive Educational Conference Program, Roofing Contractor Magazine, October 15, 2013)