Whether you're looking to sell, want to maximize the enjoyment of your space, or getting a great deal on a local Lancaster home in need of home improvements, it's important to pick projects that will offer you the highest ROI. Sure, you could spend $30,000 on Italian marble floors if they make you smile, but as you'll see, your hard-earned money is better spent in other areas.
Not sure which projects offer the best bang for your buck? At Eagle Building Solutions, our home remodeling contractors have performed hundreds of remodels throughout Southeast PA and can help point you in the right direction.

In fact, according to the 2017 cost vs. value report, there are several projects that provide great bang for your buck. From attic insulation and kitchen remodeling to exterior improvements like wood decks and a sunroom addition, here's an insider look at the five top home improvement projects with the highest ROI:
1. Attic Insulation
You may want to dive into bathroom remodeling and create your dream master bath, but adding insulation to your attic is the absolute best home improvement project you should tackle from an ROI perspective. In fact, Lancaster homeowners see an average ROI of 121 percent!
Best of all, it's a relatively inexpensive project that can usually be done in a day. Plus, you'll have the added bonus of enjoying monthly savings on your utility bill.
2. Exterior Improvements
Any exterior improvements you make to your home will pay off dividends. For example, adding manufactured stone veneer to your PA home will allow you to recoup 90.3 percent of the installation cost, which is second only to attic insulation in terms of overall ROI.
Garage door replacements also have an impressive 88 percent ROI. Other exterior improvements have equally great ROI. This includes everything from wood decks to sunroom additions and patios.
3. Minor Kitchen Remodel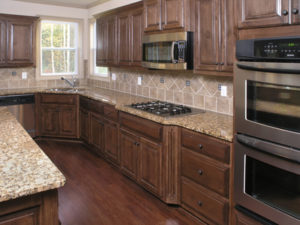 Everyone loves a big nicely finished kitchen with stone countertops, hardwood floors, premium cabinets, and commercial-grade appliances. In fact, people love great kitchens so much that the average homeowner recoups 75.9 percent of their kitchen remodeling investment at resale.While you could spend upwards of $50,000 or more on a kitchen remodel by expanding its footprint, minor kitchen remodels can make an equally large impact on your lifestyle and an even bigger impact on your bottom line.
Similar to bathroom remodeling projects, with kitchens a little can certainly go a long way. This is especially true when you have professional kitchen remodeling contractors like Eagle Building Solutions pointing you in the right direction.
4. New Siding
Fourth on the list of home improvement projects with the best ROI is new siding installation. With the average PA homeowner recouping 75 percent of their investment cost, it's a smart investment worth making.
There's also the curb appeal factor. Not only will new vinyl or fiber cement siding improve the curb appeal of your home and make it feel warm and inviting to potential buyers, but it can instantly transform the exterior of your home from drab to fab in no time at all.
5. New Roofing
Similar to new siding, a new roof will drastically help improve the curb appeal of your home and transform its exterior from old and worn out to looking brand new. New roofing is also a sign of a well-taken care of home, and it assures potential buyers that there are no leaks or issues to be concerned about. All of this boosts its ROI.
Throughout Lancaster and the rest of PA, homeowners can expect an average ROI of 68.9 percent for a roof replacement. While it certainly won't provide a 121 percent ROI like adding attic insulation, it still ranks as one of the best home improvement projects homeowners can make from an ROI and resale perspective. Plus, it will provide you with peace of mind and years of leak-free living as well.
Bottom Line on Home Improvements
The value you receive from enjoying the home improvements you make can't be measured. Even if you don't recoup 100 percent of your investment, as the numbers clearly show, you'll get close to it. Plus, you'll enjoy pride of ownership and all of the improvements you've made.
Whether you're looking to create additional space and let the outdoors in with a sunroom addition or remodel your kitchen to suit your needs and style, any home improvements you make are smart improvements in today's real estate market.
Improve your home and your bottom line by calling the home remodeling contractors at Eagle Building Solutions for a free consultation today!