More homeowners are looking to remodel their basement and create a space that the whole family can enjoy. Not only does basement remodeling create a comfortable area to lounge in, but it can also increase the square footage of your home. To enhance the space and increase your property value, there are a few hot trends to follow.
1. Built-in Storage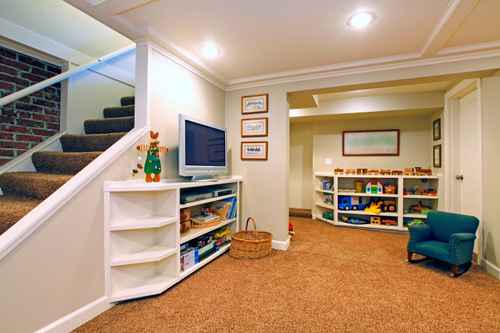 Instead of using the basement for boxes and old mementos, many people are beginning basement remodeling to create spaces that can be decorated for a multi-functional room. Built-in storage is one of the latest trends to increase the functionality of a space and serve a number of purposes. This can be used to store books, display family photos, or even hold toys for an area that is more organized. This will allow it to remain a space where items are stored without all of the clutter that is involved. Built-in storage can also be used to store holiday decorations or boxes of photographs.
2. Wine Bar or Pub
People are staying home more and more these days and what better way to enjoy a space than creating a place to entertain.  Wine lovers are installing wine tasting rooms including a wine cellar to store all their favorite bottles. For those who like beer, a pub is perfect!  Homeowners will be able to relax and enjoy making a few cocktails in a space that features a bar or tables, stools, glassware, and even a TV behind the bar.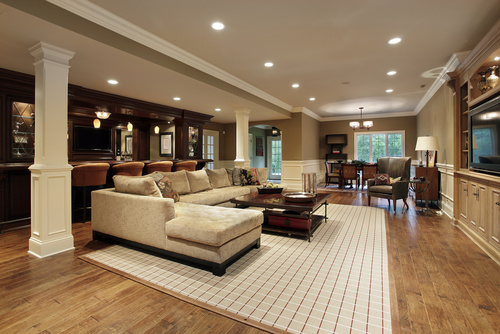 3. Home Theater
When it comes to basement remodeling, more homeowners want to install a home theater for a place of entertainment. This will make the space more enjoyable for an area that all ages can spend time in throughout the year. Homeowners can install a large projection screen on one of the walls while using a projector that is mounted on the ceiling. Leather recliner chairs can also be used for a space that feels like the cinema.
4. Recessed Lighting
Recessed lighting will ultimately create a cozy and welcoming basement that feels like it's a part of the rest of the home. This will allow the space to feel illuminated without using light fixtures that hang from the ceiling and cause the room to feel smaller than it is. You can also consider using accent lighting near built-in shelves or near artwork that is displayed on the walls.
5. Egress Windows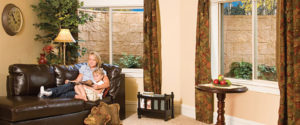 To make a basement brighter and appear larger, more people are having egress windows and window wells installed. This can transform a dreary basement and make it feel less claustrophobic while also making for a great escape route in the event of an emergency.
Window wells are increasing in popularity for a feature that allows natural light into the basement from the outside by digging a few feet underground. This can easily add an extra floor to the home that can be used for an entertainment room, in-law quarters, bedroom, or office space.