The 2013-2014 winter season in Pennsylvania provides a preview of things to come and is likely to be one for the books. Lancaster Online staff writers Dan Nephin and Larry Alexander report that in early January, Lancaster County received snowfall of up to 7 inches.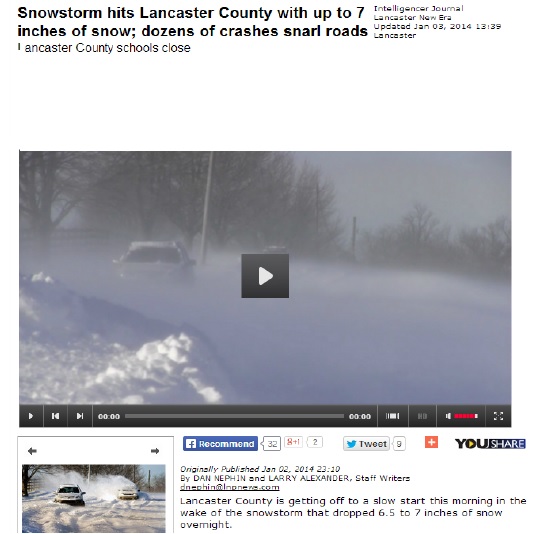 "Most of the county had 3 inches of snow on the ground by 9 p.m. Thursday, and more was coming, Horst said.

"This is a tricky storm," Horst said. "This is one of those systems where really, if you look at the range of possibilities, we could get an inch, we could get 8 or 10 inches if everything goes right.""
If you've been a long-time resident in the area, you may have an idea of how excessive snow loads can exert additional stress on roofs and make them vulnerable to failure or collapse. Given the severity of the recent cold snap, residential roofing in Lancaster, PA should consequently be designed to handle increasingly heavy snowfall.
Certain critical factors can affect the performance of any roof during winter. For instance, low-sloped or flat roof styles tend to accumulate more snow than steep slope styles that allow melting snow to run off quickly. If you have a low-sloped or flat roof, you may use a snow rake to clear your roof; just be sure to exercise utmost caution when doing so.
Another factor that affects a roof's ability to handle a heavier than usual snow load is its current condition. A damaged or a decaying roof structure is undoubtedly likely to fail in the face of heavy snowfall and powerful snowstorms, which is why many industry experts suggest that the necessary roof repairs be carried during the spring and fall. Meanwhile, experienced Lancaster roofing contractors can help control snowmelt runoff and water damage by ensuring optimum attic ventilation services.
With winter weather conditions expected to worsen in the years to come, homeowners certainly can't afford to be negligent when it comes to roof construction, maintenance, and repair. Count on a trusted local roofing company such as Eagle Building Solutions, LLC for quality roof repair and attic ventilation services that can prolong your roof's useful service life and ensure optimum thermal comfort in your home.
(Article Information and Image from Snowstorm hits Lancaster County with up to 7 inches of snow; dozens of crashes snarl roads, Lancasteronline.com, Published 2 January 2014)