Schools that have stood the test of time will need stringent measures to preserve their appearance. As reported by Kathy Hovis of Cornell University's student publication, the Cornell Chronicle:
"The whipping wind and negative temps have slowed the pace of roof replacement for Goldwin Smith Hall, but digging work at the Klarman Hall site, the future home of the College of Arts and Sciences' new humanities building, is set to begin on schedule Feb. 3.

Workers have been bundled in all sorts of special gear to face the winter chills, but there's no way to get around the need for certain minimum temperatures to complete part of the roof project."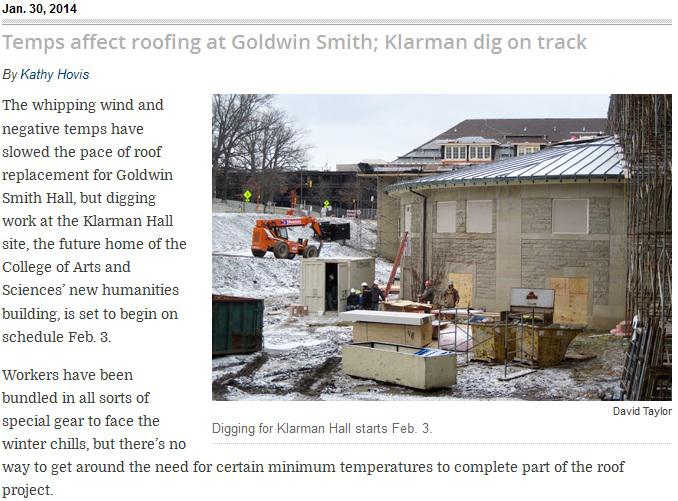 The work being done at the Ithaca, New York-based university under tough conditions will resonate with residents and academicians in Lititz, PA. The Lancaster County borough often deals with freezing rain and inclement weather during the early weeks of the year, which can affect nearby schools such as Franklin and Marshall College, Lancaster Bible College, and the Millersville University of Pennsylvania. When your house is in need of Lancaster, PA roofing repair or replacement solutions, you can rely on outfits such as Eagle Building Solutions to carry the day for you.
A casual look of the work over at the subject facility's roof can give you and your roofer clues on the degree of work needed, what materials to use, and the timetable. The Goldwin Smith Hall project, in particular, warranted a full replacement of its slate roof; many sections of it were laid down over a hundred years ago. However, the weather is hampering the workload; university associate projects manager Alex Chevallard says lower temperatures tested efforts to replace tiles and old underlayment with new material.
A reputable contractor like Eagle will have other services designed to maximize the experience of quality roofing in Lancaster. They include window and door replacement, gutter repair, and renovations. Structures designed to last many years should stay that way with adequate construction solutions.
(Source: Temps affect roofing at Goldwin Smith; Klarman dig on track, Cornell Chronicle, 30 January 2014)