Did you know that your concrete patio or deck provides the perfect retreat to remain refreshingly cool and comfortable this summer? These enticing outdoor locations provide ideal spots to relax and savor the beauty of nature even during the hottest, most searing days. Just consider employing a few of these creative yet practical ideas to help your household beat the heat!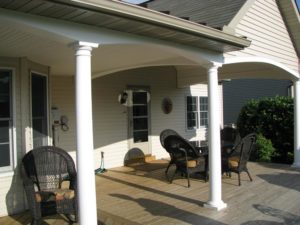 Add a Roof or Awning
Asking a home improvement contractor to install a partial or full roof over your patio and deck enables you to significantly increase shade in these locations. You may extend this shaded zone even further with an awning. Instead of encountering hot, direct sunlight whenever you step outside, you'll appreciate the added comfort. Although shade cannot cause the temperature of the surrounding air to drop, it does enable people to feel as much as ten to fifteen degrees cooler on sunny days, according to meteorologists(1). This noticeable difference helps make shaded locations more inviting places to relax.
Install a Covered Pergola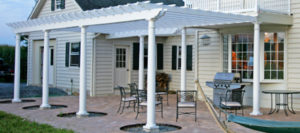 If you enjoy access to a brick or concrete patio, erecting a covered pergola also provides a refreshing option for beating summer heat. When temperatures climb, simply retreat inside the shade provided by this structure with a cool iced beverage and a movable fan. You'll still savor the outdoor environment, but your body will notice the difference! Covered pergolas offer wonderful locations to shelter picnic tables and other patio furniture from rain, also.
Erect High Concrete or Brick Garden Wall
One ancient way to beat the heat also provides an excellent trellis location for growing grapes, roses or other vining plants. You might consider asking your home improvement contractor to construct a high concrete or brick garden wall along one edge of you backyard. Situated correctly, this edifice will cast hours of shade over your lawn during hot summer days. You'll also enjoy an outdoor living area for tending vines!
Include Overhead Fans
One other way to help beat the heat with a covered patio or deck relies on a very old technology. Installing ceiling fans in these locations will help move air and create a refreshing breeze. Once again, you won't change the actual temperature, but you will feel cooler. The flow of air through the vicinity helps create a more comfortable, invigorating outdoor environment.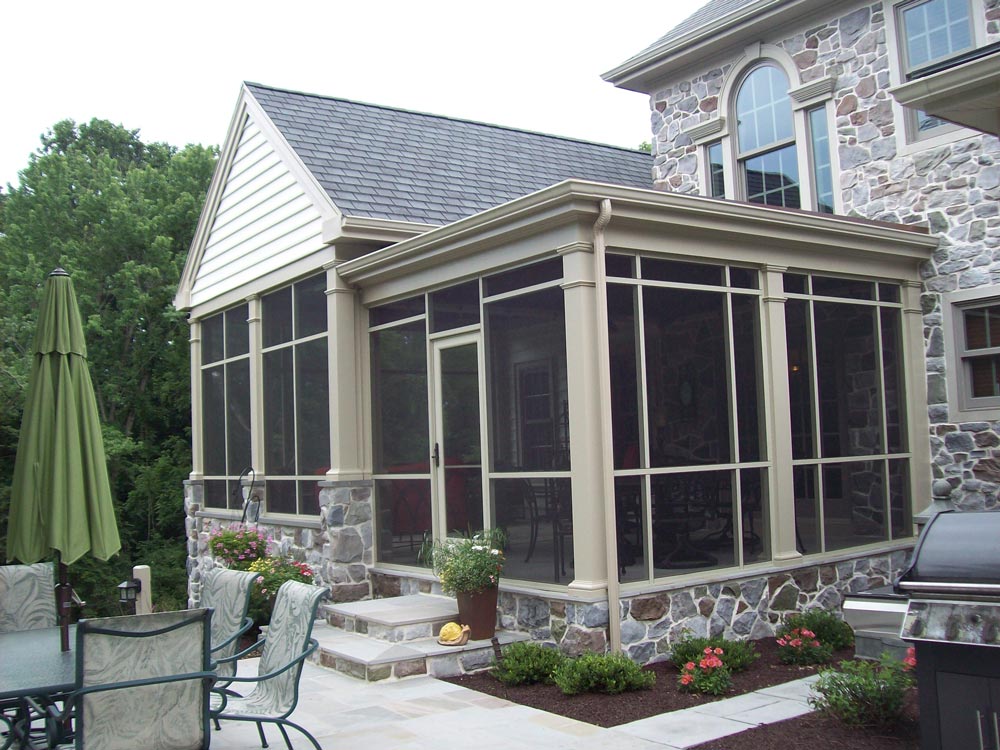 Use an Enclosed Screened Room/Patio Enclosure
If you enjoy sitting outside but don't enjoy the bugs or the sun beating down on you, then an enclosed screened room or patio enclosure is another great option. A screened room can be added to an existing patio or you can build a brand new one. The patio enclosure allows you to enjoy the outdoors even in the rain. The movable screens provide a beautiful view and give you the flexibility to open or close off the area as desired. This room can be considered additional living space thereby increasing the value of your home.
Install a Temperature-Controlled Spa
Finally, another creative way to beat the heat this summer involves installing a relaxing temperature-controlled spa. You can regulate the unit's thermostat to prevent the water from becoming too hot during the summer months. In winter, this feature will bring many pleasantly warm hours of relaxation, especially if you place your spa beneath a covered exterior area or within a large pergola.
Enjoy Your Outdoor Space
Taking one of more of these steps helps create a pleasant outdoor living environment, even during the height of summer. Share many happy hours with family and friends in these appealing, wondrously cool spots
When you require the services of a talented builder in the Lancaster, Pennsylvania area to construct some of these home improvements, Eagle Building Solutions LLC can help. Contact us at 1-(800)-247-2107 to explore how we assist households in optimizing outdoor recreational areas to create refreshing retreats this summer!
[small]References:
1 http://articles.sun-sentinel.com/2013-07-07/news/fl-shady-breezy-temps-20130706_1_much-cooler-air-conditioning-temperatures[/small]